Boarding Admission Form
We are proud to provide pet boarding - feel free to bring in their favorite toys and food. We offer 3 ft by 8 ft indoor runs. Cage free suites are also available, in addition to individual quiet private rooms. Outing times are 4-5 times a day with 1 on 1 with a handler.

If pickup is before noon, there is no charge for the day!

BOARDING REQUIREMENTS:
-Rabies vaccine
-Distemper vaccine
-Kennel Cough vaccine
-Influenza vaccine
-Negative stool sample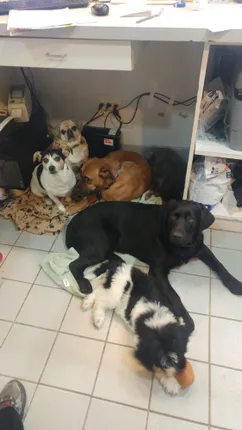 Rest easy knowing that in the event of a veterinary health emergency, our Walden Animal Clinic can provide lifesaving care. Our experienced dog boarding team provides personalized attention for every pet in our care. Dogs enjoy outings 4-5 times per day. For the comfort and safety of our pet resort, we follow strict health and sanitation protocols. All pets must be up to date on Rabies, Distemper, Kennel Cough, Influenza, and Negative Stool Sample.
Boarding at our animal hospital is a safe, secure alternative to leaving your pet home alone. This is especially true over the busy holidays. While it's wonderful to have neighbors that can drop by and check on your pet, neighbors also have busy lives and many commitments. This means that your pet could be left alone for extended periods, leading to boredom and frustration. No pet should be left crated for a long time when he or she could be enjoying the comforts of our personalized animal care. Worse, in the event of a veterinary health emergency, if your pet is home alone, no one will be able to help. Here at our pet resort facilities, our veterinarian is always nearby should anything happen.

During the summer and winter holidays, our state-of-the-art dog and cat boarding facility is very popular. We recommend that pet owners call in advance to schedule cat or dog boarding as soon as they make their travel plans. Pet owners may also wish to board their pets if they are hosting out-of-town guests for an extended period of time. The presence of new people in the house can be stressful and overwhelming for pets. Additionally, guests may be allergic to your pets or uncomfortable with them. Your pets will be relaxed and happy while staying in our comfortable boarding facilities and you can enjoy your friends and family without worrying about your pet's safety.